I was hunting around online (okay, okay, mostly on Pinterest!) this morning and found some really cute and fun crafts you can do with your children to celebrate Passover. I thought I would share. Because I love a good craft opportunity.
Create a Moses puppet using a toilet paper tube. Click
here
for directions.
Use a napkin or piece of felt to create a matzah cover. Click
here
for the directions. You could also use fabric paint or pens to write the hebrew letters for passover onto the cover.
Put items into a
bag for kiddos
to find the appropriate ones either during the seder or when reading the Bible verses about the plagues God placed upon the Egyptians.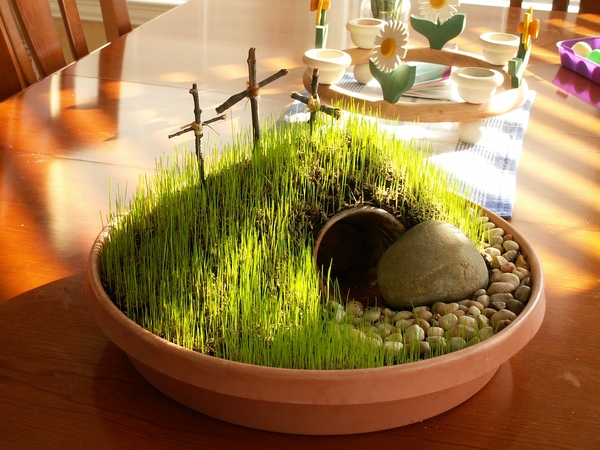 A friend of mine helped her kiddos and Lily make a
resurrection garden
. I wasn't there but I think it's pretty quick and easy with most of the parts coming your yard. Isn't it so cute?
Grab a cheapo wine glass at the dollar store and
decorate it
to be set out for the prophet Elijah who is symbolically invited to the Passover feast every year because he is coming one day to prepare the way for Jesus's return.
You could also watch the Prince of Egypt movie. Check your local library if you don't own it.
Focus on the Family has a condensed, kid-friendly,
Christian version of the seder
available online for FREE that emphasizes the connections between Jesus' death and resurrection to the Jewish traditions. Even if you don't the whole week of Passover, you could try doing this during or near Easter.