And it's not even my recipe. I'm going rouge (like if Sarah Palin was a blogger) and announcing to y'all that my favorite recipe for a traditional naan flatbread is not my own creation - because there's some sort of unspoken rule that food bloggers should never admit another recipe might be better than their own.
I do have a whole wheat garlic rosemary naan flatbread in my recipe archive that's great when you're looking for a savory healthy option.
But what about when you want to throw caution to the wind, live dangerously and eat something unhealthy? That's when I make this
basic naan recipe
from a contributor over at Allrecipes.com*: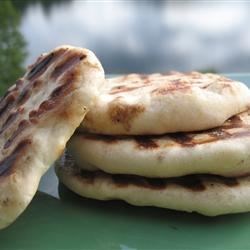 It's pillowy, light, just the right amount of buttery crusty goodness to fluffy insides. Yum.
Yesterday I used one of the pieces of naan I made from this recipe as a pizza crust for Lillian's school lunch. Making individual pizzas is one of my favorite ways to use up day-old naan.
*I have made this using honey and white whole wheat flour as well. Works great either way - just decrease the honey to 1/8 cup instead of 1/4 cup.